Workshop Title:
Religious Sacrifice and Human Experience
Date:
October 17th, 2023 (CET)
Organizer:
University of Urbino (Italy)
Keywords:
De Maistre
Girard
Aquinas
Human experience in its entirety
Christianity and other religious traditions
Workshop Chair:
Personal Bio:
Andrea Aguti is Full professor of Moral Philosophy at the University of Urbino (Italy), Department of Economics, Society and Politics, where he teaches Philosophy of Religion. His research areas are Philosophy of religion, Moral philosophy, Philosophical anthropology, and Systematic theology. As a continental philosopher of religion, he is involved in bridging the gap between the analytic and continental philosophy of religion. He has published seven books, including two introductory volumes to the philosophy of religion, more than one hundred essays and articles in national and international academic journals, and edited several books. His latest book, Morale e religione. Per una visione teistica (Religion and Morality. Toward a Theistic View), 2021 argues that theism has an explanatory advantage in both the justification and motivation of morality. Since 2016, he has been President of the Italian Association for Philosophy of Religion (AIFR) and Co-editor of the yearbook of philosophy and theology "Hermeneutica". As President of the European Society for the Philosophy of Religion (ESPR), in the two-year period 2022-2024, he is organizing the 24th ESPR Conference to be held in Trento (Italy), 5-7 September 2024.
Workshop Committee Members:
Prof. Andrea Aguti, University of Urbino, andrea.aguti@uniurb.it
Prof. Ulrico Agnati, University of Urbino, ulrico.agnati@unurb.it
Prof. Cristiano Bellei, University of Urbino, cristiano.bellei@uniurb.it
Dr. Damiano Bondi, University of Urbino, damiano.bondi@uniurb.it
Prof. Roberto Di Ceglie, Pontifical Lateran University (Rome), diceglie@pul.it
Workshop Description:
Background:
Sacrifice as a practice aimed at honoring deities by offering them something as a sign of propitiation or worship is studied from the viewpoint of numerous religious cultures and scientific disciplines. Theology and philosophy as well as evolutionary biology, sociology, economics, literary studies, political and military theories, gender studies, and such like, are involved in research on sacrifice. Unsurprisingly, the views of sacrifice that have emerged from the abovementioned studies are numerous and exceedingly varied. Decades of debates in which thinkers such as Bataille, Derrida, Nancy, Girard, and Žižek have offered substantial reflections on religious sacrifice have provided very little assistance in clarifying sacrifice in itself. Some even say that we still need to make it clear what we mean by 'sacrifice'.
Goal / Rationale:
The extraordinary variety of approaches to the theme of sacrifice is itself a problem, on which one should focus. Outstanding thinkers such as Joseph de Maistre and René Girard interpreted the whole human history in sacrificial terms. However surprising this may appear to be, something analogous may be said of Christian theologians such as Augustine of Hyppo and Thomas Aquinas, according to whom sacrifice seems to shape the entire experience of believers and cannot be seen as a mere ritual. From this, another problem emerges. The fact that sacrifice seems to shape human experience in its entirety does not seem applicable to religion as such. At the same time, it does not seem to regard only Christianity. Our workshop intends to focus on these issues by proposing new reflections on the aforementioned authors in the light of a comparison between Christian religion and other religious traditions.
Scope and Information for Participants:
Applications are invited on topics which include, but are not limited to, the following subjects: Is there any connection between the variety of approaches to sacrifice and the fact that outstanding thinkers such as Joseph de Maistre and René Girard have interpreted the whole human history in sacrificial terms? Can the same question be posed regarding Christian theologians such as Augustine of Hyppo and Thomas Aquinas, according to whom sacrifice seems to shape the entire experience of believers and not just a mere ritual? And does the fact that sacrifice turns out to be more than mere ritual only regard Christianity, or is there a substantial convergence between different religious perspectives?
Highlights: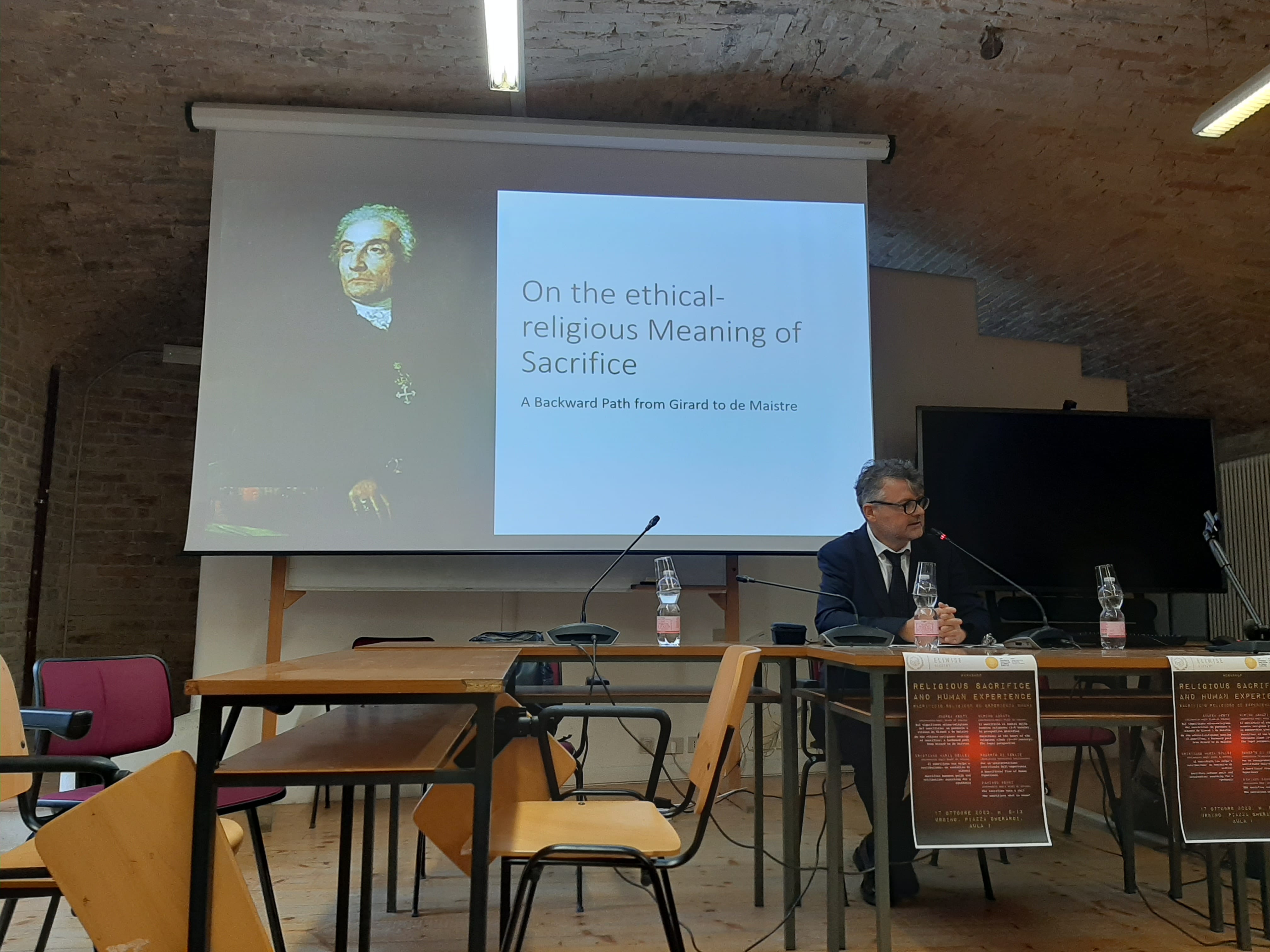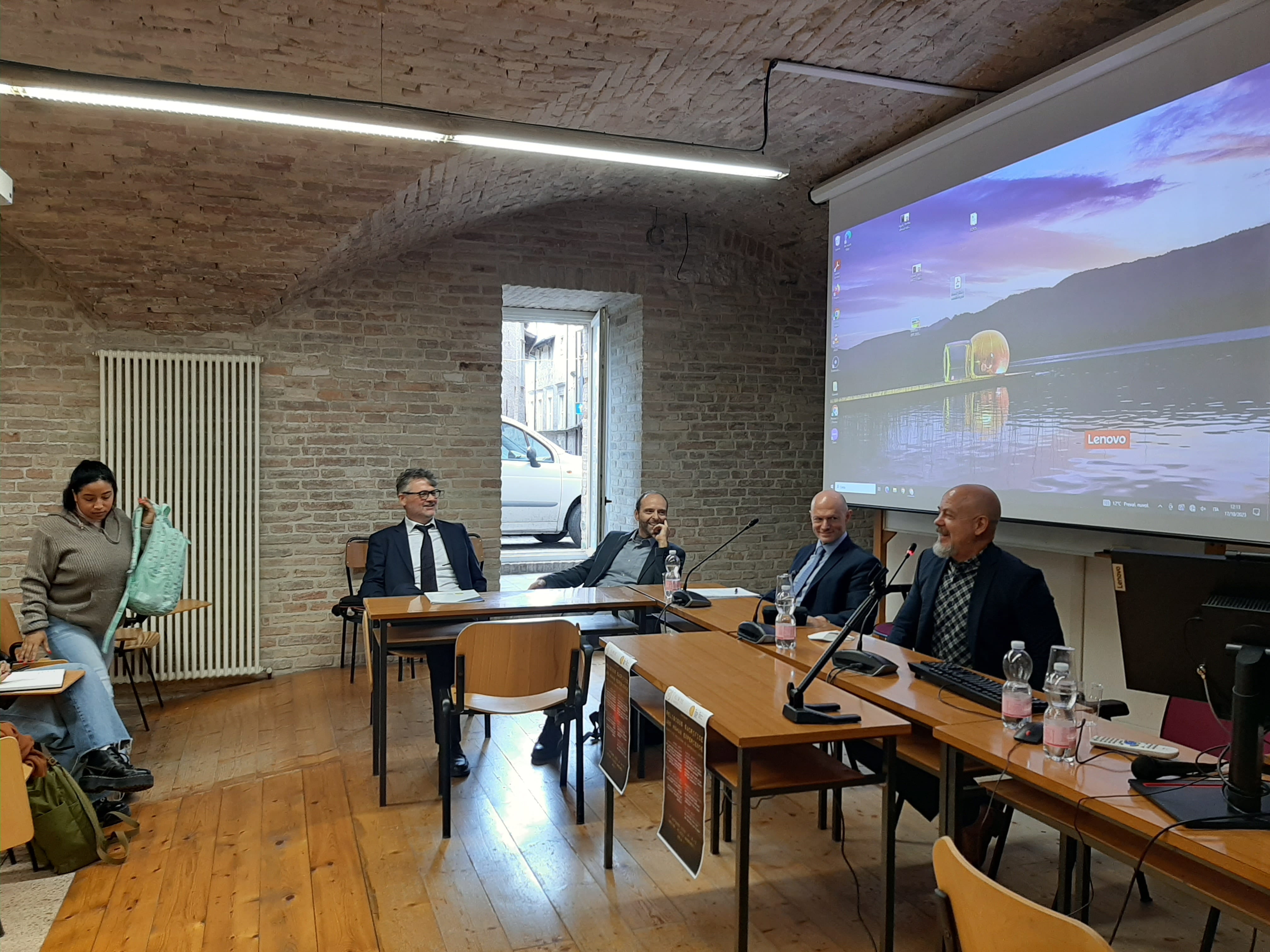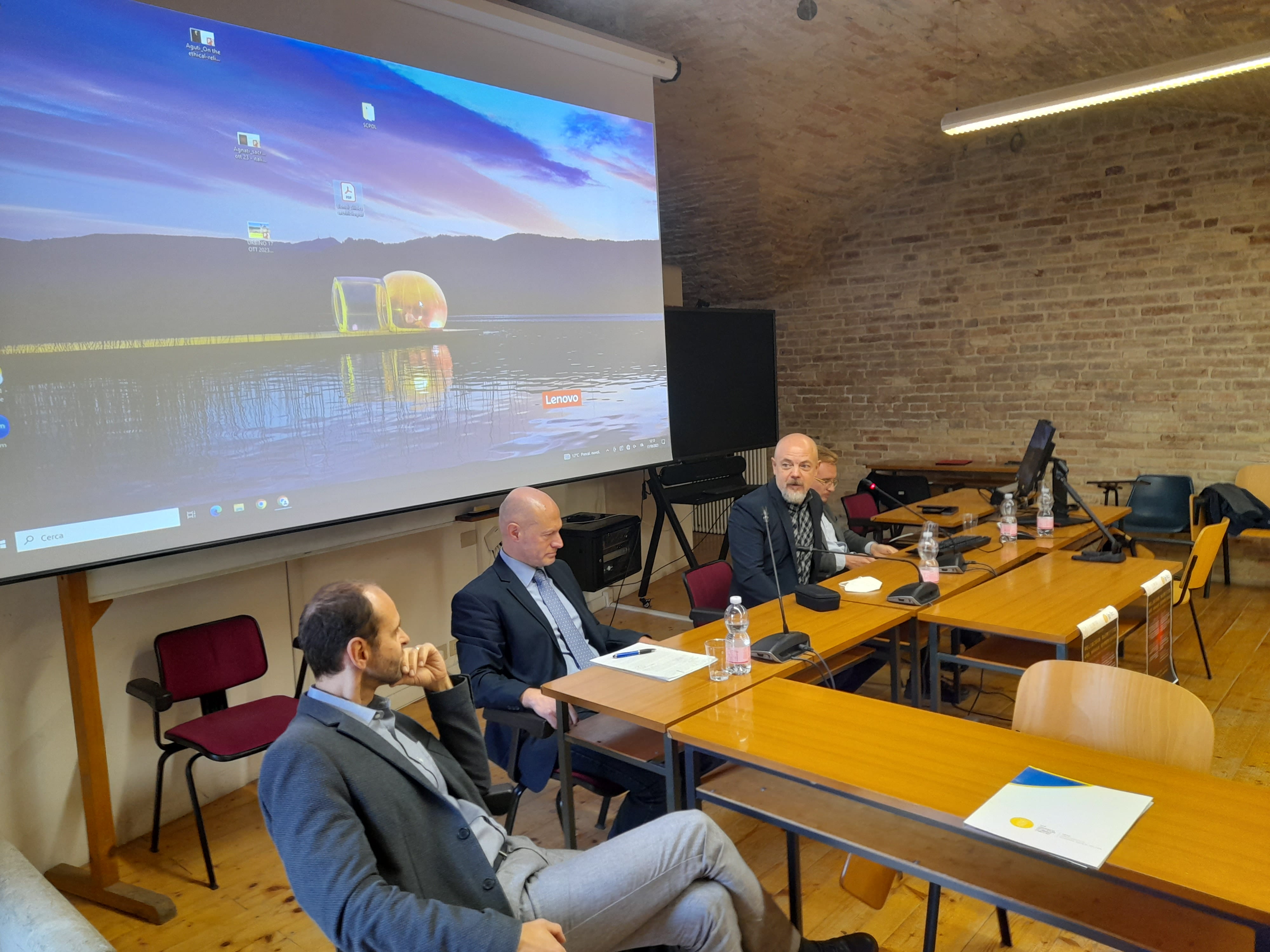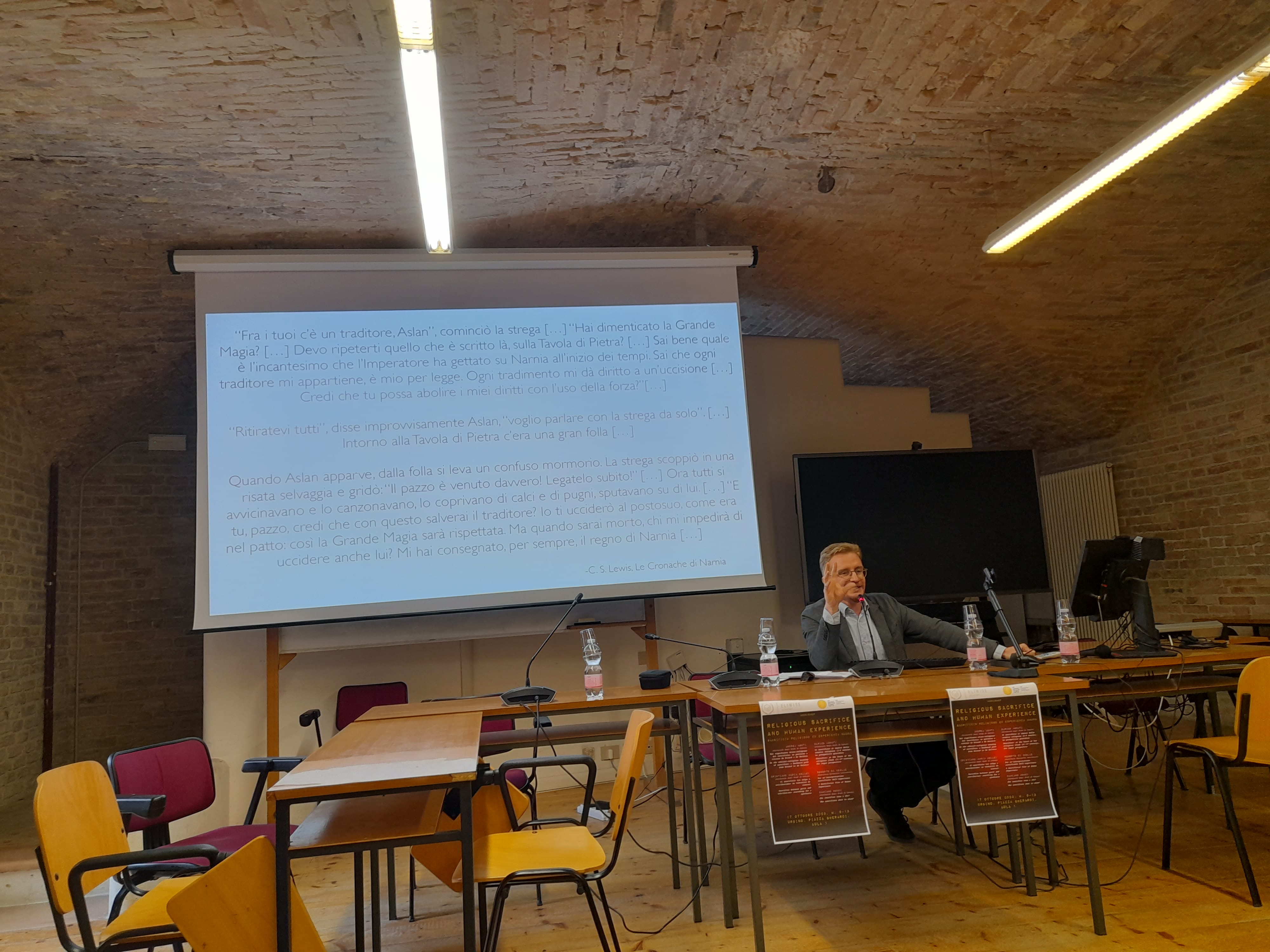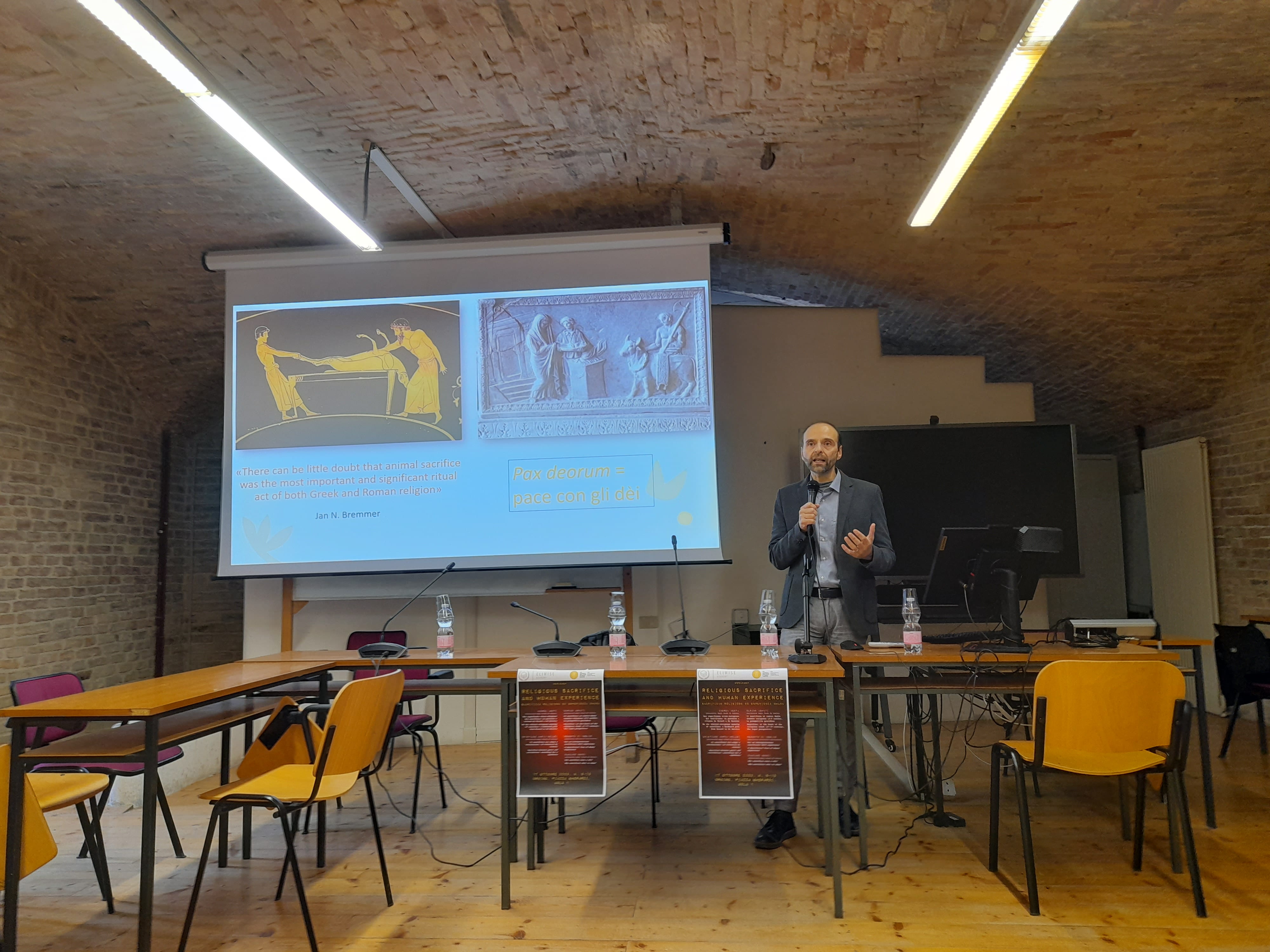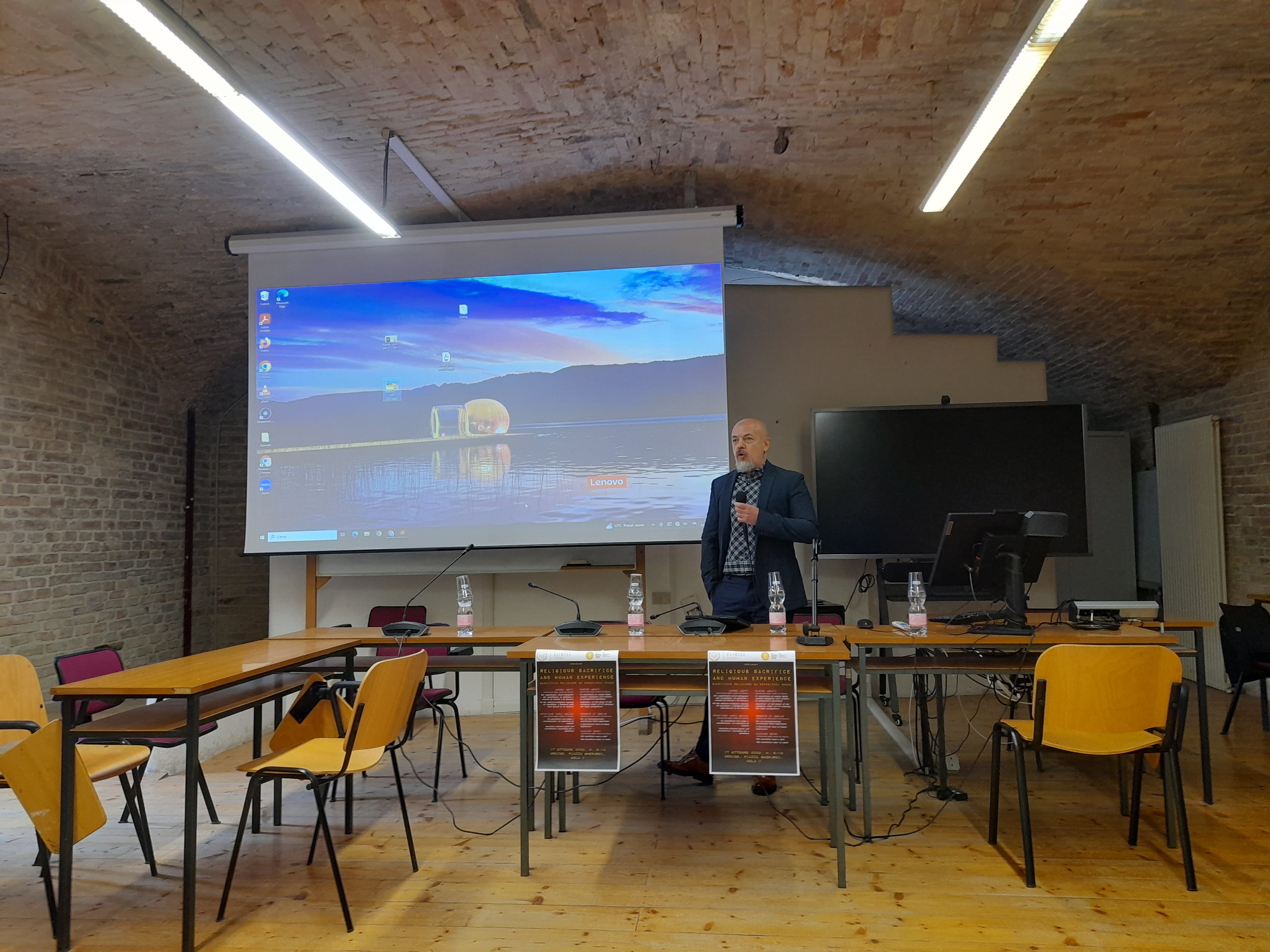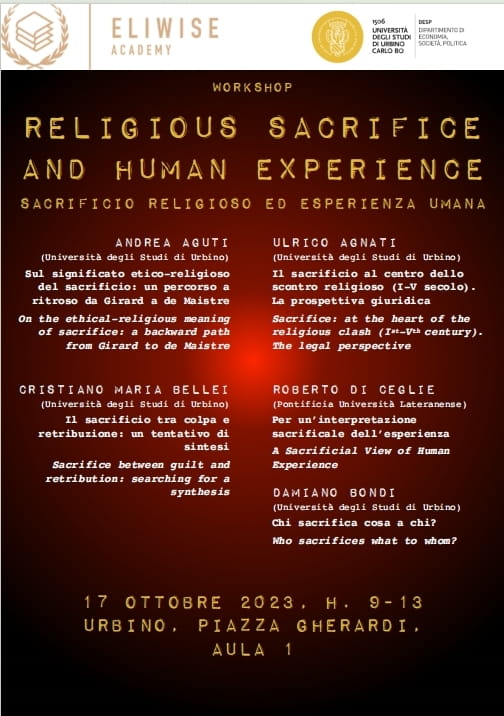 The workshop aimed to reflect on the significance of sacrifice as a religious act and an intellectual and moral experience. The keynote speakers had two main objectives: firstly, to show the difference between the Christian conception of sacrifice and that of ancient religions and, therefore, to understand the former as a paradigmatic example of rationalizing the relationship between human beings and the divine. This rationalization process within the religious realm has provided the basis for universalizing the sacrifice's experience and acquiring its relevance in the moral sphere.
The second objective was to discuss René Girard's theory of sacrifice, which has been very influential in recent debates. In particular, some aspects of this theory were critically analyzed: a) his functionalist conception of sacrifice, which seems to ignore the properties of innocence and guilt in the sacrificial victim; (b) his conception of the sacred, which seems reductive in many ways; (c) the ambiguity of his conception of religion which, on the one hand, needs of genuine transcendence, to legitimate sacrifice on the social level, and, on the other hand, considers it as purely imaginary; d) his anti-sacrificial conception of Christianity which is based on a questionable exegesis and theology.
Access to Workshop:
ICIHCS 2023 Workshop -- Chicago - YouTube (1)
ICIHCS 2023 Workshop -- Chicago - YouTube (2)
ICIHCS 2023 Workshop -- Chicago - YouTube (3)
Venue:
University of Urbino Carlo Bo, Via Aurelio Saffi, 2 - 61029 Urbino PU-IT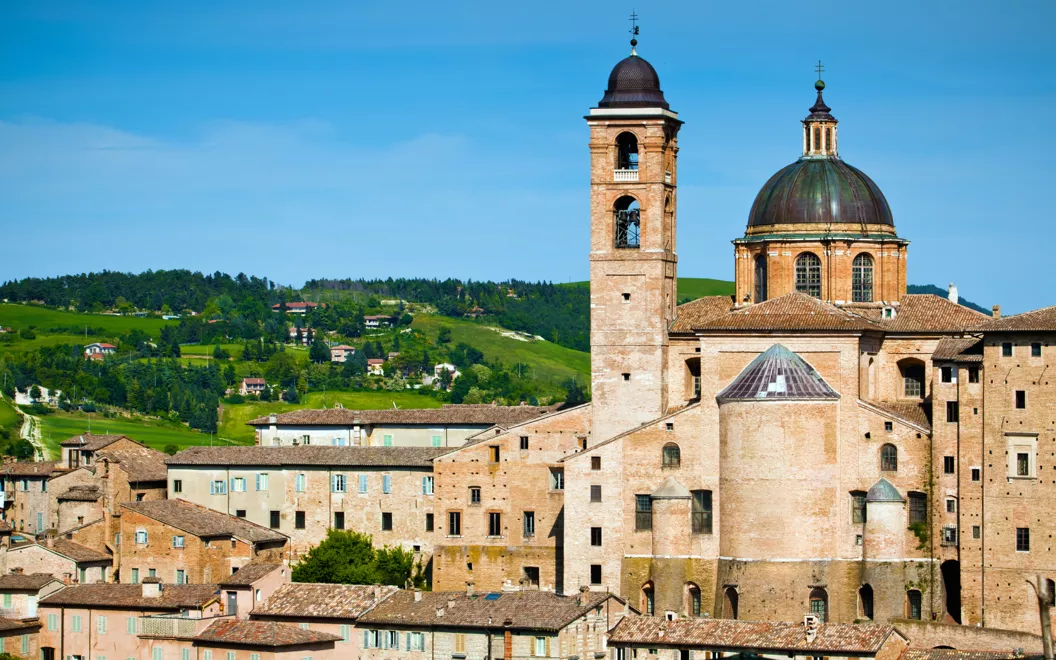 Visa:
Italy Visa & Entry Requirements - How to Apply for a Visa to Italy
Italy Entry Requirements
All EU / EEA nationals will only need to present an identification document to enter Italy due to the common travel area of the Schengen Zone, part of which Italy is.
In the meantime, if you are a non-EU/EEA traveller wishing to visit Italy, San Marino or the Vatican, you will need to present the following at the Italian port of entry in order to be permitted to enter:
A valid passport or travel document. Valid for at least three more months beyond their planned date of Exit from Schengen and issued within the last ten years.
A visa - if they are subject to the Italian visa regime.
Other documents such as an invitation letter from an Italian host, proof you have the financial means for a trip to Italy or a round-trip ticket, may be required from you. For more information in this regard, contact the local consular services of Italy in your country of residence.
Moreover, the Italian border officer may ask you a few questions related to your trip to Italy, i.e.:
What is your purpose for visiting Italy?
How long do you intend to stay in Italy?
Where are you going to stay in Italy? Etc.
Note that the Italian border police holds the final decision if you shall be permitted to enter Italy or not. If the Italian border officer concludes that you are no risk for Italy, upon checking your documents, you will be permitted to enter Italy, and thus the Schengen territory.
Please, make sure that the Italian border officer stamps your passport when you enter Italy. Without a stamp, you could be fined or detained from Italy.
Who Needs a Schengen Visa to Enter Italy?
You will need a short-stay visa to enter Italy and any other member country of the Schengen zone if you belong to one of the following categories:
What Documents Are Required When Applying for an Italian Schengen Visa?
The following documents are required for any short-term Italian Schengen visa application:
Italian visa application form. Complete the form and then print it. Sign in at the end after you print it. Make sure the information you have given in this form complies with the information given in the rest of the required documents for an Italy visa.
One passport-size picture. The picture must have been taken in the last six months and in compliance with Italy photograph visa requirements.
Valid passport. You will need to submit your passport along with the rest of the visa-required documents. Make sure your passport has at least two blank pages in order to affix the visa and:

It is not older than ten years.
Has a validity of at least three more months beyond the date you plan to leave Italy and the whole territory of Schengen.

Your residence permit card along with a copy (if you are not a citizen of the country from which you are applying).
Proof of accommodation:

Hotel reservation. (Check Booking.com or HotelsCombined to find cheap hotels in Italy!)
If you have a host in Italy: Completed and signed copy of the sponsorship form along with a copy of the passport and the Italian residence permit card of your host (if applicable).

Proof of travel (as applicable):

Proof of the availability of personal transportation.
Ferry ticket.

Schengen travel visa insurance. Health insurance for the whole territory of Italy and the Schengen Area. Minimal health insurance coverage for the Schengen Zone is €30,000.
Travel health insurance policies for foreigners visiting Italy that fulfil Italian Visa requirements can be purchased online from Europ Assistance or Mondial Care. Travel insurance policies issued by both companies are accepted by Italian authorities worldwide.
Proof of sufficient financial means for the period of stay in Italy. The Italian authorities want you to prove you have the necessary financial means to support yourself throughout your stay in Italy. You will need to prove you have the following amount depending on the length of your stay.

Up to 5 days - The overall amount is 269.60€ per person and 212.81 per two and more persons.
6-10 days - The daily amount is 44.93€ per person and 26.33€ per two and more persons.
11-20 days - The overall amount is 51.64€ per person and 25.82€ per two and more persons, plus the daily amount is 36.67€ per person and 22.21€ per two and more persons.
Over 20 days - The overall amount is 206.58€ per person and 118.79€ per two and more persons, plus the daily amount is 27.89€ per person and 17.04€ per two and more persons.

Proof of civil status. This could be a marriage certificate, birth certificate of children, death certificate of spouse, etc. Civil status documents should not be older than six months.
If requested:

Copies of relevant pages in your passport, such as pages containing previous visas.
A cover letter. A personal letter in which you explain why you are applying to visit Italy, how long you plan to stay, when will you leave and other relevant details of the trip.
Document checklist. Tick the documents submitted and add the document checklist to your application file. The checklist is usually available from the Italian Consulate/Embassy.